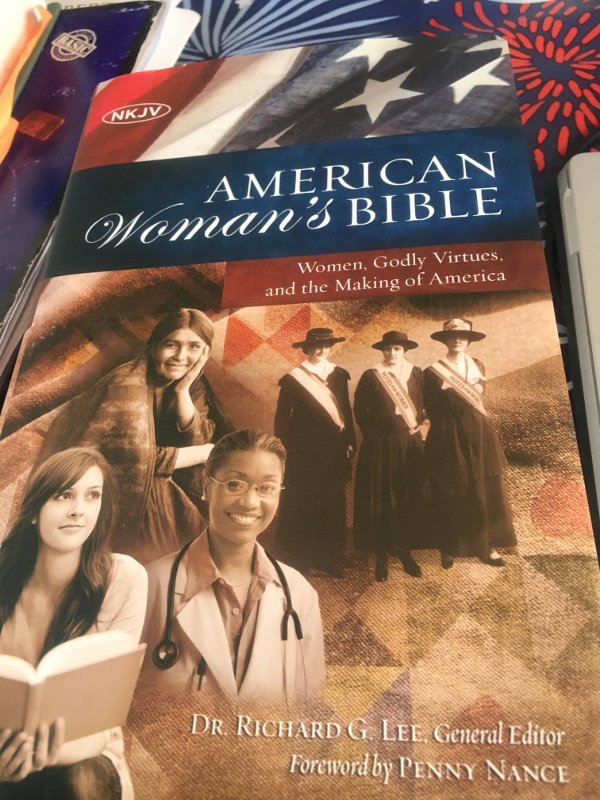 We, as women, often times find ourselves feeling alone against the tide. We think that we are the only ones who have lived the hard story, walked the broken paths. But God, in His infinite wisdom, has seen fit to show us that we are just one small piece of a larger picture by giving us the stories of the brave and bold women of the Bible to inspire us during our struggles.
Yet if you are like me then I know what you are thinking. But that was so long ago. I just can't relate to those women. That was then and this is now and the gap just seems too large to bridge. I hear you! So you can imagine my excitement when I heard that Thomas Nelson Publishing along with Dr. Richard G. Lee were putting together the American Woman's Bible – Women, Godly Virtues, and the Making of America.
What a fantastic time of year to get this Bible into your hands.  In addition to the perfect words of the greatest Book in the world, you get to read stories of the famous, and the not so famous women, who helped forge this country from its birth to its modern times, using God's Holy Word as their life compass. From the obscure women of the colonies to the heroic women who survived the bombings of 9/11, each story is filled with how God helped them through the good times and the bad.
I love the words of Alexis de Tocqueville, whose works inspired Dr. Lee in his journey to discover America's greatest godly women. Upon leaving America he wrote in his book, Democracy in America, "if anyone asks me what I think the chief cause of the extraordinary prosperity and growing power of this nation, I should answer that it is due to the superiority of their women."
The American Woman's Bible NKJV reminds us that we are all chosen by Him to help use His Word to change our lives, our communities, and ultimately our world. In the forward is a valuable tool for every woman, A Woman's Journey to Godliness-10 steps that lead to godliness. My favorite is #8 which said that "A godly woman rests in the knowledge that God is in control and wants nothing but the very best for her life." How wonderful is that knowledge as explained in Jeremiah 29:11 "For I know the thoughts that I think toward you, says the LORD, thoughts of peace and not of evil, to give you a future and a hope."
Breath of Life is pleased to be able to give away 2 copies of this amazing compilation. To be entered just leave a comment to this post or leave a message on our Facebook page, and tell us your favorite life verse and how it has shaped you and your story.
You can also buy copies using our Amazon link HERE. We receive a small percentage of each sale which we use to help women in need all over the world. (It does not increase your price)
We would love to pray for you and your life journey. Please click HERE to let us know of your prayer needs. Indeed, God reminds us of His desire to pray for others in 1 Timothy 2:1 "Therefore I exhort first of all that supplications, prayers, intercessions, and giving of thanks be made for all men,".
In Him,
Jenny, Freida, Ingrid, and Michelle
© 2016 Breath of Life Womens Ministry, all rights reserved, https://breathoflifewomen.org/
American Woman's Bible available HERE http://amzn.to/29o9QXX
American Woman's Bible is published by Thomas Nelson http://www.thomasnelson.com/
Thank you to Blythe Daniel Agency for giving us the Bibles to give away to our readers http://theblythedanielagency.com/
Scripture taken from the New King James Version®. Copyright © 1982 by Thomas Nelson. Used by permission. All rights reserved.